Wachet Charity Hospital in Myanmar
Goals of health care support
・Provide health care for those who lack access.
・Bring hope for the futures of children.
Wachet Charity Hospital: Where Japan Heart began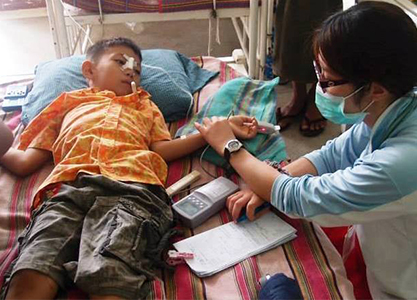 Without a universal health care system in place, many sick people in Myanmar delay visiting a doctor because they cannot afford the high medical costs and are often precluded from receiving vital medical attention until it is too late.
In May 2004, Japan Heart began its work at Wachet Charity Hospital located in the Sagaing Region in central Myanmar, offering low-cost (free for children), safe health care services. Soon word spread across the country about Japan Heart's work, and the sick have increasingly sought care at Wachet Charity Hospital. Today, Japan Heart assists approximately 10,000 outpatients and performs as many as 1,500 surgical operations each year.
Many precious lives to be rescued!
In November 2012, a desperate young couple arrived at Wachet Charity Hospital after making a two-day bus journey from Shan State in the Northeast part of Myanmar. The mother was holding a six-month old infant boy tightly in her arms, covering him with a blanket. When the blanket was removed, it revealed a 10 cm (about 4 inches) tumour on the back of his tiny head. The baby boy was suffering from an "encephalocele," a birth defect where a part of the brain protrudes like a sac through the skull. If the tumour tissues broke and triggered a brain infection, it would be fatal to the boy.
Initially, the parents visited a village doctor, who told them to find a specialist at a city hospital. They were left completely at a loss but luckily were told by the villagers: "Go to Wachet Hospital. They treat babies and children free." The parents traveled to Wachet Charity Hospital with their baby clinging to the hope that his life could be saved. Fortunately, a team of paediatric surgeons had been dispatched from Japan and were on site when they arrived. The boy underwent immediate surgery to have the tumour removed. Three days later, the medical team could see the baby boy sucking his mother's milk with full strength, while both parents beamed with happiness and relief.
Japan Heart is committed to enriching quality of lives through health care.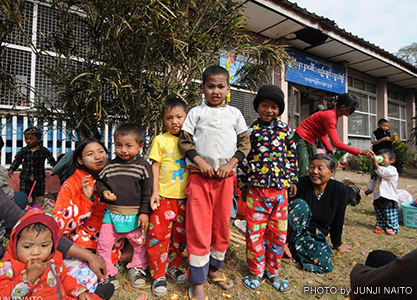 Health care services at Wachet Charity Hospital are performed by Japanese doctors and nurses along with local staff members who are trained under the guidance of Japan Heart. Local health care professionals are making steady progress in building their knowledge and techniques, treating patients alongside Japanese health care professionals who offer their services as volunteers. Patients treated at Wachet Charity Hospital and their families comment that the heart-felt care itself seems to contribute to restoring the health of patients, and how lucky they are to have received treatment there. Japan Heart will keep striving to provide low-cost, safe and comforting health care at Wachet Charity Hospital, with the goal of enriching the quality of life for everyone involved.
Child Development Center, "Dream Train"
A facility where children in Myanmar are protected from human trafficking and nurtured for a better future.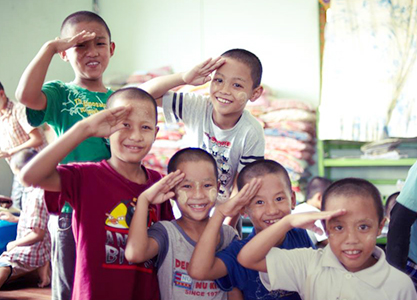 Poverty and HIV/AIDS are two of Myanmar's national challenges, and the need for immediate help is great. Because of these issues, children are forced to live in the shadows of society, facing harsh situations. The scarcity of money and loss of parents to HIV/AIDS forces many children to halt their education and eventually become victims of human trafficking and prostitution and face the dangers of HIV/AIDS themselves. This vicious cycle is most severe near the border, as well as in the poverty-stricken regions of Myanmar.
Here is a tragic story of one family in Myanmar: A mother died of AIDS, leaving behind five daughters and a husband who was also an AIDS sufferer. Unable to care for his children, the father put his eldest daughter (aged ten) up for adoption. When the father visited the adopter's address believing the promise that he could visit his daughter anytime he wanted, all he saw was empty land. Despite a desperate search for his daughter, her whereabouts remains unknown. He clings onto the hope that she might be living well somewhere, but the likelihood that she has become another victim of human trafficking is undeniable.
Setting forth our "Dream Train"!
In 2010, Japan Heart opened a child development facility in Yangon and named it "Dream Train." Considering the potential danger faced by these children, the facility was placed far away from their hometowns to protect them from human trafficking. Furthermore, "Dream Train" shelters many children who are abused by their own parents or young children from poverty-stricken families who are forced to work instead of going to school.
"Dream Train" carries security and safety along with the children on board, and its destination is "independence"!
At "Dream Train," full time staff members are in charge of the children's daily lives. Doctors and nurses take care of their physical health,. Here, children are provided with opportunities in basic education and vocational skills such as sewing and IT. The mission is to provide needy children with an environment where security and peace of mind are assured, as well as to equip them with job skills so that they can eventually lead independent lives. Children in Myanmar are the future of this country. Without a doubt, protecting and nurturing these luck-deprived children will contribute to the further development of Myanmar.
Dream Train Official instagram
https://www.instagram.com/dreamtrain_yangon/
Supporting the social independence of the visually impaired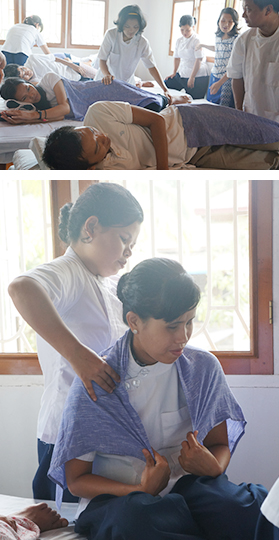 In May 2010, after receiving Grant Assistance for Japanese NGO Project funding from the Japanese Ministry of Foreign Affairs, Japan Heart kicked off another project: supporting the visually impaired. Three goals were set: training the visually impaired to become medical massage therapy instructors, developing massage therapy education programs and curriculums, and publishing textbooks for the training.
Official statistics list the number of visually impaired people in Myanmar at approximately 160,000, though it is said that the actual figure could be as high as 300,000 to 400,000. Throughout their lives, many remain hidden under difficult conditions without any access to schools for the visually impaired. The number of these schools is very limited, and the doors are open only for the privileged. Also, disparities between schools are pervasive. Some graduates from urban schools can go on to university. Rural schools focus more on vocational skill development, such as massage training, bamboo crafting, or fortune telling, but even if these students complete all vocational training courses, only a select few graduate and gain financial independence.
After graduation, most students plan to become massage therapists, but many schools lack suitable professional teachers, which results in seniors instructing junior students. Consequently, students only acquire hand skills without having the opportunity to learn introductory anatomical physiology. This limits the students' ability to gain the expertise and skills necessary to become financially independent.
To solve these problems, Japan Heart opened a training centre with the cooperation of Myanmar's Ministry of Social Welfare, Relief & Resettlement. Here, the visually impaired receive professional training to become experts in medical massage therapy — clearly differentiated from relaxation massage — and the graduates return to their home schools as instructors.
Today, the training centre admits students selected from schools for the visually impaired throughout the country. Mr. Shinya Shiozaki, who leads the professional training at this centre, is visually impaired himself and has experience teaching at schools for the visually impaired in Japan. He obtained a degree in Education at a university in the United States as well. Dr. Daung Kun Chang, also visually impaired, is a mainstay of this facility and supports Mr. Shiozaki both as an interpreter and as a local professional. Dr. Kun Chang earned a license in massage and finger-pressure therapy in Japan.
For the visually impaired who are not able to study at the training centre, seminars are arranged on a local to national-scale, inviting Japanese professionals to conduct them. The seminars provide a venue for students and other visually impaired people to communicate and share their techniques and knowledge with each other. Through these activities, Japan Heart advocates for professional education for the visually impaired to government officials and educators who specialise in this disability, laying a foundation for a network and system for visually impaired people to attain higher status within society.