Support for Victims of the Great East Japan Earthquake
Epic disaster in Japan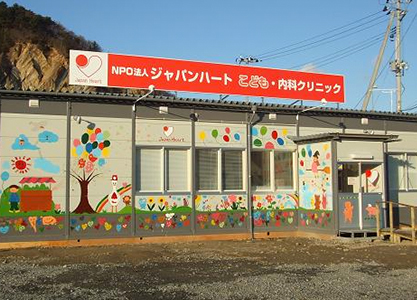 On March 11th, 2011, at around 14:46, a powerful earthquake measuring 9.0 on the Richter scale struck Japan with the epicenter located off the northern Pacific coastline called Sanriku. It triggered a monstrous tsunami that caused catastrophic damage to the towns on the entire Sanriku coast through the Kanto Plain, particularly in such prefectures as Aomori, Iwate, Miyagi, Fukushima, Ibaraki and Chiba. It was the most devastating natural disaster Japan has experienced since World War II.
Relief and recovery activities
Japan Heart immediately mobilized health care relief activities at six locations in some of the most severely damaged cities, such as Kesen-numa, Minami Sanriku and Ishinomaki in Miyagi prefecture. This was the first time Japan Heart assisted with disaster-relief operations in its home land.
In June 2011, due to changing priorities, the aid activities of Japan Heart were shifted from medical care to life support programs including distributing hot meals, cleaning emergency shelters and transporting relief supplies. Japan Heart recruited and dispatched approximately 500 volunteers to complete this mission.
Community Health Care Project
Connecting isolated communities with medical professionals in urban cities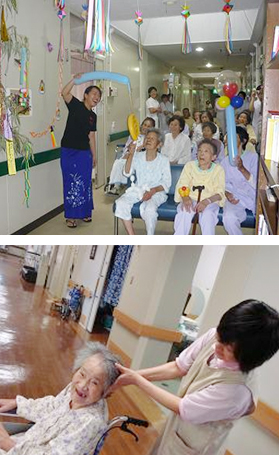 Health care is significantly difficult to access in remote rural areas and on isolated islands in Japan, unlike the system in urban areas. Similar to trends seen around the globe, physicians and nurses in Japan are gravitating towards cities, leaving hospitals and medical facilities in remote communities struggling, understaffed and financially strained.
If these facilities are shut down, the residents will be forced to take long trips via boat or plane to seek health care services on the mainland. Paradoxically, in urban areas, Japan is seeing an increasing trend of health care professionals – and nurses in particular – leaving their extremely stressful and demanding jobs. The disparity in health care needs between rural and urban areas reflects a profound dilemma in Japan. It made Japan Heart wonder: "What if these medical professionals can be lured to underserved communities to practice for only one year, or even half a year?"
At first glance, the proposed solution may seem to create a one-sided benefit to the rural health care facilities as they receive an inflow of medical personnel. However, there would be benefits to the medical staff transferred from cities as well. Many hospitals and clinics in these areas provide unique medical care that is tied deeply to its community and residents. The medical staff sent to these facilities as trainees often talk about their past experiences in these communities and how it enriched their professional careers. In an environment full of restrictions, whether in Japan or abroad, a medical professional must face a myriad of challenges and is required to have versatile skills in order to provide proper health care. It is worth noting that medical profes sionals with such capabilities are often found in isolated communities. So if you are a health care professional looking for a real community-oriented environment, step forward and take a chance. Whether you are a doctor or a nurse, your experience will enhance your career without fail.
Currently, Japan Heart is partnered with several hospitals on isolated islands and provides medical professionals with training opportunities. Our present focus is on training nurses, but if requested, we will provide training to other medical professionals including physicians, radiographers, physical therapists, and pharmacists.
Japan Heart plays a crucial role as a health care connector between isolated communities and medical professionals in urban cities, and it disseminates health care news widely to the public. We believe that these interactions will usher in new developments in health care, both in urban and isolated communities.