In Laos, there are many places where medical care has not reached despite a large amount of foreign medical support. We at Japan Heart continue to provide our specialised medical support to rectify this problem and save the lives that otherwise could not be saved. We also train local medical staff through our medical and surgical activities.
Combating thyroid disease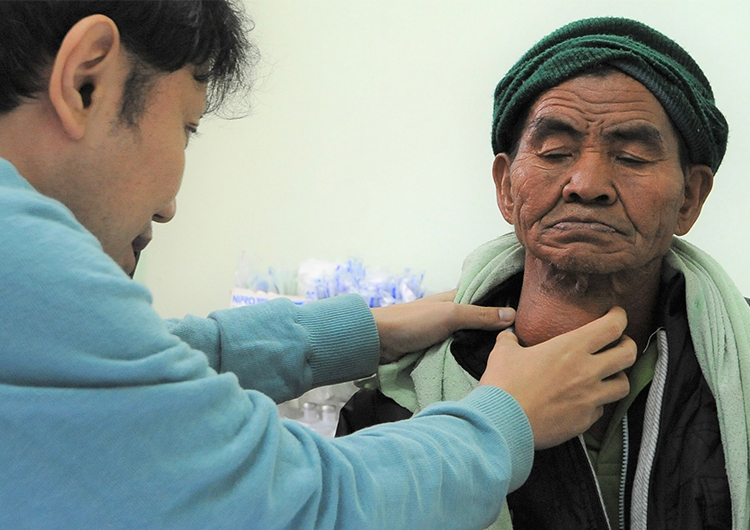 The thyroid gland, located on the front of the neck, plays an important function in secreting hormones that the body needs. As these hormones are made from iodine, an insufficiency of this mineral in the diet can affect the function of the thyroid gland. Iodine is abundant in seafood, but is difficult to come by in landlocked countries that are far from the sea. Countries like Laos that are not only landlocked, but also mountainous and prone to heavy flooding are especially difficult to acquire the necessary iodine. As many as 95% of Laos people are thought to live in iodine deficient areas according to a UN study.
Iodine deficiency can cause various diseases such as hypothyroidism and goitres. Also, iodine deficiency in pregnant women can cause congenital iodine deficiency syndrome.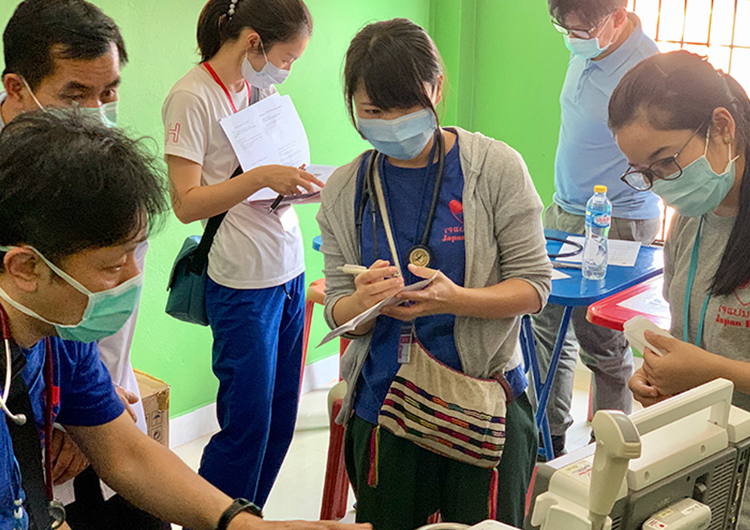 Japan Heart began conducting mobile clinics in Phongsaly in February 2015 and many of the patients that came through were suspected of having thyroid disease. Becoming acutely aware of the local needs, we decided to carry out thyroid focused activities in the northern part of Laos, providing surgical and general medical treatment. However, Phongsaly is mountainous, difficult to access and lacks the infrastructure, equipment and medicine among other problems that prevent the provision of safe treatment. To avoid these massive barriers to treatment, we decided to carry out our activities with the cooperation of local hospitals in Oudomxay province, which is more accessible to not just Phongsaly, but also the surrounding areas.
One of our focuses in our thyroid treatment program is training medical professionals at Oudomxay Provincial Hospital. We are currently transferring the necessary expertise so that the entire sequence of medical treatment, surgical treatment and postoperative management can be eventually performed at local hospitals. Japan Heat will support the improvement of medical care in Laos in partnership with the Laos people to ensure medical care for all who need it.
Developing a self-sufficient surgical environment in Laos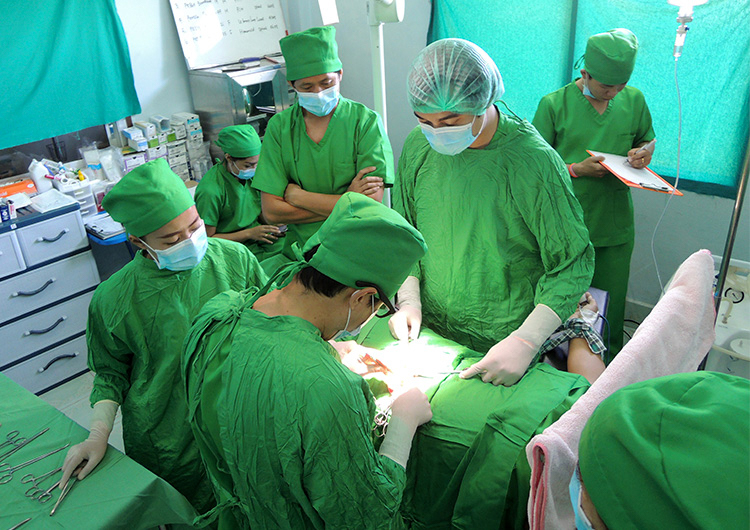 Pak Ngum is a district of the Laos capital Vientiane, located about 60 km east from the city centre. With a population of about 50,000 people, Pak Ngum has one district hospital and nine health centres. Japan Heart has been conducting medical activities at the district hospital since 2013. In phase one, which lasted until 2016, 30 surgical missions were carried out in cooperation with the hospital where more than 550 surgeries were performed.
However there is a lack of experience in doing hospital-based surgeries so in the future it is a major goal of Japan Heart to improve the skills of medical staff by creating an environment where they can perform surgery on their own.
In March 2017 a new large surgical building was established with the support of the temples in the area. It is a magnificent building that includes an operating room, ward, pharmacy and reception. We have decided to provide our support through the training of surgeons and nurses to support the hospital's efforts.
As of April 2020, we are coordinating with the Laos government and Pak Ngum Hospital and will start activities as soon as the project is accepted. Being able to perform surgery mainly at one site will directly lead to the improvement of medical standards in Laos. By doing so, our goal is to increase the number of lives that can be saved and to deliver more medical care.